Mobile Window Tinting Installation
All window tinting services are installed by experienced Hall of Fame certified window tint specialist. We use the highest quality ceramic window film recommended by the "National Skin Cancer Foundation" to ensure the finest job possible in Texas. We back our service 100% with a LIFETIME WARRANTY!

Don't have a garage or parking garage?
Book a Window Tinting at our Shop! Just drop your vehicle off & we'll call when its finished
(2512 W Pecan St, Pflugerville, TX Suite 260)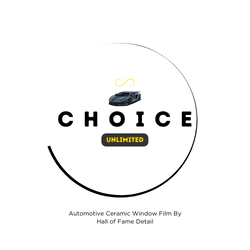 Superior Heat Rejection
Hall of Fame Detail's Choice Window Film Absorbs 95-99% of IRR Rays, These Infrared Rays are What Makes Your Car Hot. Save Gas & Energy Year Round!
UV Ray Protection
Using Choice Film Provides benefits For Skin Care & Protection. 99%+ of UV Rays are Rejected for a Lifetime of Protection From The Sun's Rays
Highest Clarity
The multi-layer nano construction in "Choice" provides ultra high performance without reducing outbound visibility. This means no weird green or purple glares when looking out your windows.
Using Technology is a Breeze
Choice Window Film in No Way Interferes With Your Phone's or Radio's Signal. Enjoy Your Entertainment at All Times.
Transparent Low Price, For The Highest Quality Tint!
Window Tint Removal Services
What our customers are saying
Truly Impressed
"I did not know my car could get this close to brand new. Kelton and crew had to originally reschedule, and while I thought it would only take them 4 hours when they came, they were at it working hard on my car for almost 7 hours. Truly impressed, and did not expect them to be able to get all the dirt and sand I had in my trunk out. They were out there using tooth brushes to work at edges. Highly recommend and worth the price."
- Daniel B.
Looks Brand New!
"Wow!!!! I'm truly impressed and blown away. Our car was covered in dog hair and sand and now it looks brand new! Jaden did an incredible job. You can tell they really care about what they do and how they do it. I highly recommend them! It was so nice to have them come to our home to clean the car instead of going and waiting somewhere. I was able to work from home while they cleaned and detailed our car. Jaden really took our car from dog-lived in-crumbs everywhere-full of smudges to a seriously clean and beautiful looking brand new interiors. I'm so happy!"
- Cassandra K.
Highly Recommend
"2 Years ago I received a ceramic coating from this company along with removing some paint swirls and blemishes. I promised that if the ceramic coating held up I would leave the best review I could. The service from hall of fame has left my paint shiny and without scratches for literally 2 years straight and counting! I had originally got a 1 year coating but it is outlasting its time. Today I decided to return to hall of fame for their mobile window tinting service, and they crushed that too!! My car looks so different with window tint, but in a good way. I highly recommend them for any service available on their website."
- Monyce F.